Gina M. Muth, DVM
Gina Muth is a veterinarian Veterinary Clinic of the Medical Area. She joined our team in May of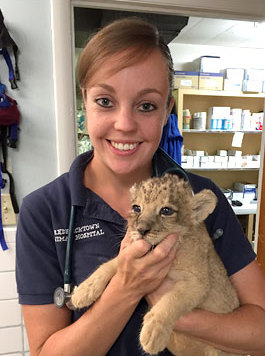 2015. Prior to earning her Doctorate of Veterinary Medicine, Dr. Muth worked as a veterinary assistant and volunteered at a horse rescue organization. She attended the University of Wisconsin-River Falls, where she earned an undergraduate degree in Animal Science with a minor in chemistry. Dr. Muth obtained her Doctorate of Veterinary Medicine at the University of Illinois.

"When I first started working as a veterinary assistant at the practice, I really enjoyed the staff and the clients," says Dr. Muth. "When I graduated veterinary school, working here was at the top of my list!"

Dr. Muth has four dogs: Penny, Mia, Zip and Rosie; four cats: Edward, Rosemary, Sherman and Richard; and three horses: Bailey, Presely and Jay. She also has a guinea hen appropriately named Guinea.